Welcome to 'News'
Selected items of News from the Church of Scotland website are found at the foot of our News page.
A meeting will take place after church on

12th December

to formally ratify decisions taken at the meeting on 24th November

(termed an Elders'Conference)

, which was described as "One of our most important meetings of recent years and... pivotal in shaping the future of our church and congregation". Topics included the future of our ministry, our role within the community and the future of our church building. You can also read background in Alistair Walker's article in the November EKO.
Christians face arrests, jail terms for church meetings and printing religious texts
A Christian couple in China have each been sentenced to seven years in prison and a fine of RMB 250,000 (approximately £29,240) for "illegal business operations," after their appeals were rejected.
This is the latest case of Christians being accused of "illegal business operations" in connection with printing religious books.
Read more in our December EKO magazine (link in 'Notices').
On Sunday 28th November, we were unable to show the live service due to a technical problem. We are pleased to announce that the recording has been retrieved and is now available in 'Watch-a-Service'.
Perhaps this is a good moment to consider just how blessed we have been to have had the opportunity to show online services thoughout the pandemic, especially when we were in lockdown. We continue to broadcast our Sunday services because we are aware of the needs of our housebound members, and those who are vulnerable and still wary of mixing, despite the anti-Covid precautions we take. Also, we have had the thanks of shiftworkers, holiday-makers, and friends who live too far away to attend in person.
We have had very few technical problems over the last 20 months or so, and we are so grateful for all the skills, efforts and commitment of, particularly Austin, who did so much on his own for so long, and now,

also of our 'Sound and Vision Team' volunteers whom he has trained and supported.
Thank-you, everyone!
Activity Groups
A number of our activity groups have now restarted. For more details, please check 'Notices' on the Home page, and the individual group pages in 'Activities for Adults'.
Zoom Guides
Since some committees and groups may find it practical to continue with Zoom meetings from time to time, we will keep our 'Zoom Guides' for a while at least. They are found in the newly titled 'Getting Back to Normal' on the Home page, formerly known as the 'Our Response in Challenging Times'.
From the Church of Scotland website:
Church of Scotland's Advent Calendar: Light in the Darkness
The countdown started as Advent began on Sunday 28 November and runs until Friday 24 December. This year, contributors across the length and breadth of the Church of Scotland are joining together to shine a 'Light in the Darkness' through this year's Advent calendar. The theme is inspired by John 1:5 'The light shines in the darkness, and the darkness has not overcome it':
Click on Advent Day 1 for Lord Wallace's introduction to the daily Advent series. Click on the link at the foot of the page to see them all as they appear each day up until Christmas.
Moderator and Archbishop issue a statement on refugee crisis
As at least 27 people died trying to reach the UK in a small boat this week....
The Moderator of the General Assembly and the Archbishop of Canterbury have issued a joint statement about the plight of refugees and asylum seekers following the tragic loss of life in the English Channel.
"The Church of England and Church of Scotland, along with Christians around the world, believe that every person is made in God's image.
"We celebrate our work supporting vulnerable people seeking refuge and asylum.
"In a climate that is often hostile towards these men, women and children, we commit to offer them welcome and compassion.
"In too many cases, the churches are the only available support in an asylum system that is proving inadequate to the task. We take care to ensure our practices are safe, robust and above all founded on Christ's command to welcome the stranger.
"It is a tragic reality that worldwide there are more than 26 million refugees, around half of whom are children. The number of displaced people due to persecution, conflict and violence is more than 80 million. This is a global challenge of terrifying proportion.
"No effective solutions will be found unless states, religious groups and civil society come together in a spirit of pragmatism and compassion.
"This situation cannot go on - let this be the moment we bring hope for all God's precious children."
Lord Wallace, Moderator of the General Assembly of the Church of Scotland
The Most Reverend Justin Welby, Archbishop of Canterbury
Click Here to go to this Church of Scotland news item.
East Kilbride involvement in House of Commons recognition for climate change activism as Moderator meets political and faith leaders in London
The Church of Scotland's contribution to the climate change debate has been recognised in the House of Commons.
Dr Lisa Cameron, MP for East Kilbride, Strathaven and Lesmahagow, has lodged an Early Day Motion which acknowledges its ambition to be carbon net zero by 2030 and continuing role to advocate for change and action. Her motion: That this House acknowledges the contribution of the Church of Scotland to the discussion and action on climate change, including the Church's own Net Zero target by the year 2030; notes the participation by the Rt Hon. Lord Wallace of Tankerness, Moderator of the General Assembly of the Church of Scotland, as a delegate at COP26; recognises the continuing role of the churches and faith groups in advocating for the care of the environment; and calls on the Government to continue to engage with faith groups and civil society in this matter.
For more information: Use the link to the Church of Scotland website at the foot of the page.
News of Church of Scotland Moderator-Delegate 2022-23
Rev Iain Greenshields has been named as the next Moderator of the General Assembly of the Church of Scotland.
He is quoted as saying: "There are a great many challenges facing our society today including climate change, poverty, mental health, social isolation, addiction and the Church is active in supporting those in genuine need".
He believes addiction should be treated as a public health issue, said he is "honoured" to have been nominated to take up the 12-month ambassador role next May.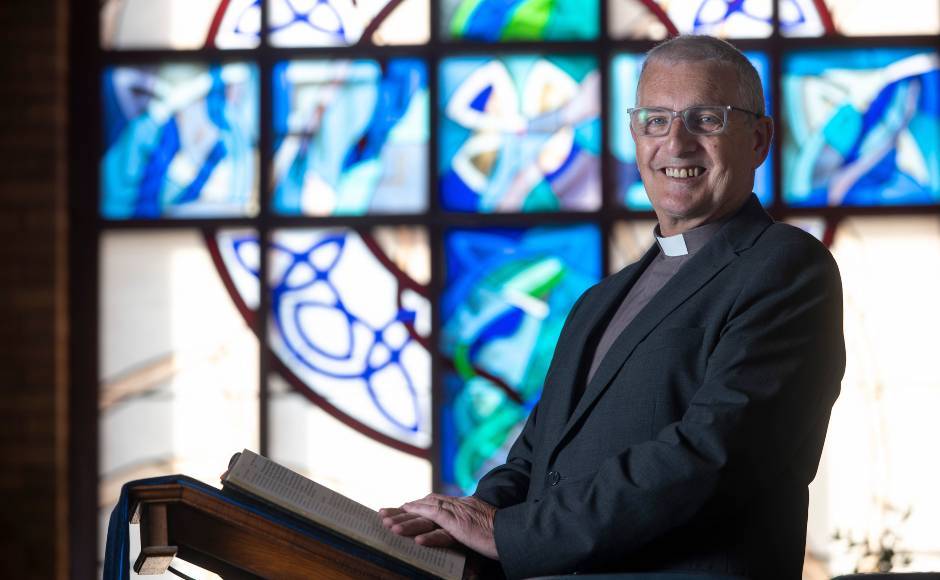 Click Here to read more about Rev. Iain Greenshields in a Church of Scotland News article.
For more news from the Church of Scotland website Click Here